Unfortunately, this page is not available in your language. However, you can translate the page with Google Translate. This will likely cause translation errors.
Tell-A-Friend-Programm

EasyWebshop is a community driven application. Word-of-mouth accounts for about 90% of our new customers.
With the Tell-A-Friend program you receive a kickback fee for every new customer you bring to us.
High payouts
Receive up to € 100 for every new shop
The new customer receives the same amount as a discount
Bring in new shops without limit
Hosting, domain names, security and support are managed by us
Also for resellers
Possibility to receive payments in a free shop
Payout in discount or on invoice
Tell-A-Friend can be found at Dashboard > Tell-A-Friend.
If Tell-A-Friend is not displayed in the menu, first adjust the user level to Advanced, at Settings > User experience level.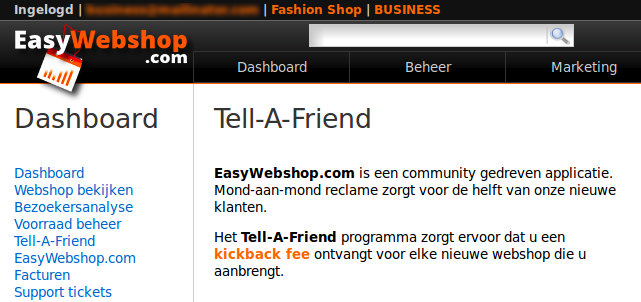 How does it work?
Invite a friend or colleague to start a shop with your Tell-A-Friend URL.
That's your shop address with /start at the end.
The new customer will also receive the amount as a discount on his own purchase.
After the upgrade of the shop, the credit is automatically added to your account balance. You can also view a summary of the shops you added and your revenue.
You may also use the Tell-A-Friend discount for starting a second shop for yourself.
Payout on invoice
On the Dashboard > Tell-A-Friend page you can find an overview of your revenue.
Starting at € 100 you can send us an invoice to collect the amount. You can also use the amount to upgrade your own shop or for ordering a domain name.
---
Nächste Seite: META-Tags – Website-Überprüfung >>>