Unfortunately, this page is not available in your language. However, you can translate the page with Google Translate. This will likely cause translation errors.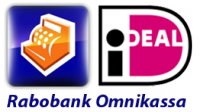 EasyWebshop heeft steeds meer Nederlandse klanten. Zij kunnen vanaf nu Rabobank Omnikassa instellen als betaalprovider.
Met Rabobank Omnikassa worden verschillende betaalmethodes ondergebracht in één kassa. U kunt de Rabobank app voor EasyWebshop hier downloaden:
http://www.appwebshop.com/detail/857122-rabobank-rabo-omnikassa.