Unfortunately, this page is not available in your language. However, you can translate the page with Google Translate. This will likely cause translation errors.
Webshopcursus 2 was een succes
Dienstag, 25 juni 2013, 14:00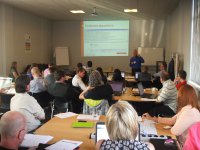 Onze tweede webshopcursus was een succes. Net zoals bij onze eerste cursus, konden we opnieuw rekenen op een volle zaal enthousiaste webwinkeliers.
We willen hierbij graag iedereen bedanken voor zijn/haar aanwezigheid en we hopen dat we binnen enkele maanden opnieuw een leergierige groep mogen verwelkomen op onze derde webshopcursus.